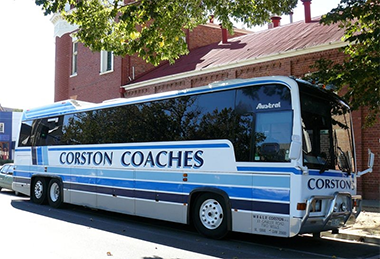 Hire Bus Tours in Adelaide
When it comes to bus hire Adelaide or bus tours Adelaide Corston coaches will be there for you, we are experts at what we do and would love the opportunity to show why our clients keep coming back.
If you would like bus hire in Adelaide we can help, or if you would like bus tours in Adelaide or around Adelaide then also we can help.
We offer lovely bus tours Adelaide, why not try a tour to beautiful Barossa or one of our famous mystery day bus tours.
Why have all the stress of driving, when we can drive for you in the safety and comfort of our well maintained buses. Just think you can actually sit back and have a look at our beautiful country side and be totally relaxed when you arrive at your destination.
Check out our bus tour packages for dates of some of the wonderful day tours, that we will be do during the year. You will be surprised at some of the places and festivals that we can take to you.
Corston coaches is a family run business and been running for 33 years, we pride ourselves on giving that extra bit of service, that's why our clients keep coming back time and time again, our business survives on you.
So don't you think it's time you treated yourself? How long has it been since you have seen the beautiful Lobethal lights, or toured the opal mines of Andamooka, We bet you haven't been to the Great Ocean Road for a while or spent hours walking around the Strathalbyn antique fair or that special piece for the home, We know our favourite is the Kerneweck Cornish festival, the Cornish pasties are delicious, haven't found anything you like yet then maybe a red wine in the Barossa that's always a winner.